Hello Every Kitty! Boy it has been a fun exciting ML Birthday Celebration week so far. But we are not done yet! Our friend Mimi has offered her talents in the following auction...here is your chance to makeover your blog and help out Charlie Cat at the same time. Leave your bid in the comments of this post. Please go and visit her blogs to see her work and ask any questions you might have...the nice woofies do not bite:) Our Commentathon raised $21.50. Two friends have offered to match those funds. They are

Niko & Cloud

and

Meepsie, Smokey

and Mummy Jan! YEAH and thank your kind hearts so much! Our aukshun is doing well so far too...we have bids in at $109 so far. You have until next Wednesday midnight to bid. The GIVEAWAY winner will be announced on Sunday due to the fact that the help was napping in the sunshine all afternoon and wouldn't come inside to help pick a name...oh I forgot that

Tracey and Huffle

have also stepped up to match the funds raised! How about you...I CHALLENGE you...plus I will make you something special I know you will love!

Hansel

and Auntie Deb and the

Taylor Cats, Samantha & Mr. Tigger

have matched the fund!! We now have

$150

! YEAH I LOVE YOU GUYS!
I will provide a custom blog header or banner or footer of your choice. I will design/custom make your selected item using any photos you wish to provide and collaborate with you on any content that is especially dear or significant. Opening bid, $10.00. Please visit my kitty blog: http://ourcatablog.blogspot.com/ which will lead you to my other family blogs that you can see below.
Great mews just in! Miss Mimi has made this a DUTCH AUKSUN! That means all bidders will win but you will have to be very patient because first come first served...she does have a life with a house full of furries to take care of.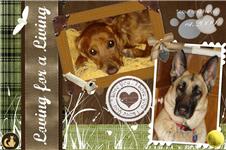 Da bloggy of da woofiez

THE KITCHEN DOOR IS ALWAYS OPEN FOR FRIENDS
Please also scroll down her posts and read THE DOGS OF WAR post. It will enlighten you to the true meaning of Memorial Day..